NaProTechnology & FertilityCare
The Restorative Approach To Your Gynaecologial Health & Natural Fertility
NaProTechnology provides treatment for WOMEN'S HEALTH and treatment for married couples suffering from INFERTILITY and REPEATED MISCARRIAGES.
Identifying and treating the underlying causes – both medically and surgically – and optimising the woman's cycles increase the chance for the couple to conceive through a natural act of intercourse and reduce greatly the risk of miscarriage. In many cases, sperm parameters can also be significantly improved.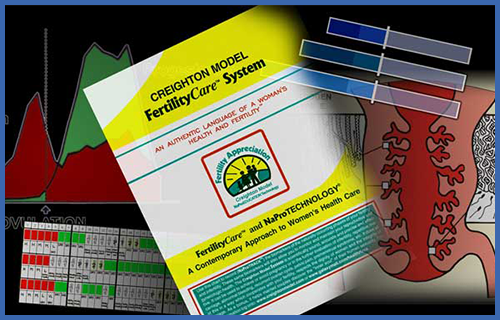 All couples will learn how to track their cycles with the help of a Creighton Model FertilityCare Teacher. Each woman is unique so her chart will be unique, as well as the specific time for her blood tests - checking progesterone levels for all women on day 21 of the cycle is not appropriate, given the great variability of the cycles from one woman to the next and even for one given woman.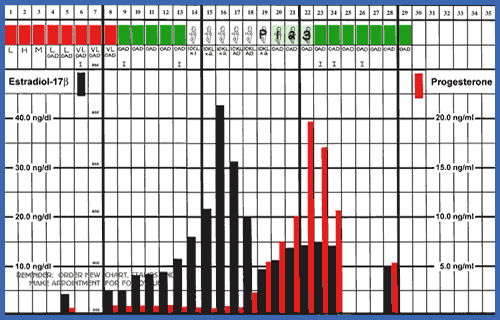 Normal Chart & Normal Blood Levels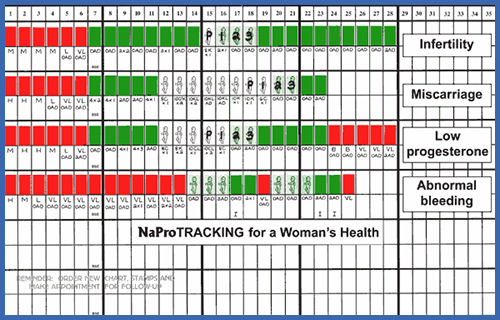 Samples Of Abnormal Charts
Human fertility is precious and we believe it should be valued and respected. NaProTechnology fully respects the couple's dignity and their procreative capacities. In conjunction with FertilityCare, it also helps improve the communication between husband and wife.
The FertilityCare System allows women to monitor and maintain their procreative and gynaecological health over a lifetime and NaProTechnology also provides extremely effective treatment for premenstrual symptoms, irregular cycles, pelvic pain, post-partum depression…
Some couples like to start by learning to chart the cycle and then proceed from there. Others prefer to start with a medical consultation. Your perspective will be different depending on whether you are about to start trying to conceive for the first time, or whether you have already been trying unsuccessfully for some time, or have had the misfortune to suffer a miscarriage.

Before embarking on more invasive procedures, most couples would rather improve their own natural fertility potential first and NaProTechnology provides a very successful alternative to IVF, at a fraction of the cost.
Infertility is a symptom of underlying disease(s); these underlying causes have to be addressed as they not only hinder the functioning of fertility but also cause short and long term health problems.
Medical treatments are also tailored-made and given in a cooperative manner with each cycle, together with advice on diet and life style. Referral for surgical assessment and treatment will also be made as required. The goal of NaProTechnology is in fact to restore the couple's natural fertility potential.
Couples are empowered, observing for themselves the improvement in their chart, blood results and ultrasound scans, and being able to identify the most fertile days of the cycle.
Once normality is restored, they are encouraged to try to conceive for 12 to 18 "optimised" cycles to give themselves the best chance at natural conception. The whole program usually lasts for 12 to 30 months, but couples are also free to continue for longer or to opt out at any time.
The success rate for infertility is at least comparable to IVF and for repeated miscarriages, it can be as high as 80%, depending on age and underlying causes.
Blood levels are also monitored during pregnancy and hormonal support is provided from the time of the positive test.
Dr. Guindon is a member of the American Academy of FertilityCare Professionals (AAFCP - https://aafcp.net/) and a Certified FertilityCare Medical Consultant (CFCMC). She is a member of the Board of Directors of FertilityCare Centers International (FCCI) and a member of the International Institute for Restorative Reproductive Medicine (IIRRM - www.iirrm.org); she is also a member of the Irish Fertility Society.
She is now available to welcome patients – both existing and new.
Opening hours:
Monday, Tuesday & Friday: 9 am to 5 pm
You can visit: http://naprobaby.ie/