Maternity and Antenatal Care
All woman who is pregnant and is resident in Ireland Are entitled to free maternity care under the Maternity and Infant Scheme.
Resident means that you are living here or you intend to live here for at least one year.
The Maternity and Infant Scheme provides an agreed programme of care for an expectant mother. It is provided by your GP of choice and hospital obstetrician. You are entitled to the service even if you don't have a medical card. Virtually all GP's have agreed to do to participate in the scheme.
The GP provides an initial examination, if possible, before 12 weeks and a further 5 examinations during the pregnancy which are alternated with visits to the maternity unit or the hospital. This scheme also provides for 2 post natal visits to your General Practitioner, your 2 week check and your 6 week check (for baby and Mum).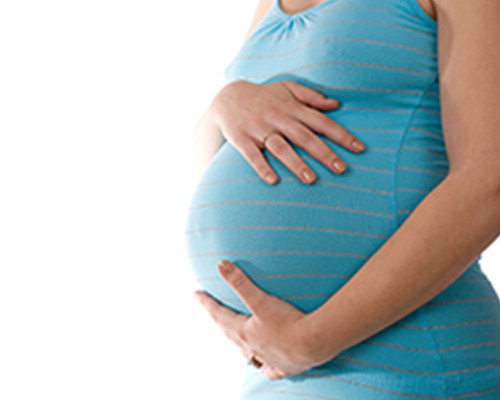 The timing for the antenatal visits are usually the booking visit which is generally before 12 weeks. The other recommended visits are 24, 30, 34, 37 and 39 weeks. We will also, at this practice would be happy to see you between 14 and 16 weeks as this is a time when the fetal heart becomes apparent.
In the norm the hospital appointments take place at around 12 weeks. At this visit they will do some booking bloods and also do a detailed scanning.
You can discuss the options of the 2 local hospitals which are University College Hospital Galway and Portiuncula Hospital in Ballinasloe. They have slightly different schedules which we can review with you at the visits.
At all times please don't hesitate to contact the practice if you have got any concerns, we are always happy to see you at any point. Visits for other illnesses which you may have at the time and are not related to your pregnancy are not covered by the scheme and it is required that you pay your GP for these visits if you don't have a valid medical card.
If you have a medical card for yourself, you should apply for your baby's card as soon as you get the baby's PPSN number. You can do this via phone to your local health office.
The public health nurse will also visit the mother and baby at home during the first 6 weeks after delivery . This service is free of charge. We have application forms for the maternity and infant scheme and if for some reason you haven't completed one please advise us at one of your visits. You should contact your antenatal clinic to enquire about ante natal classes as these are available through the hospital.
Healthy Eating During Pregnancy
Remember you're not eating for two! It is important to eat according to appetite.
Monitor Weight Gain during pregnancy as excess weight gain can lead to gestational diabetes and runs risk of developing musculoskeletal issues .
For normal pre-pregnancy weight
1st Half of pregnancy 2-4Kg 5-9lbs
2nd Half of pregnancy 5-8.5Kg 11-19
Overall 7-12.5Kg
Food Pyramid in Pregnancy Nutrients of Importance
Folic Acid
Recommendations; 400ug/day supplement
Extra folate required throughout pregnancy
Include folate-rich foods:
Granary bread
Beans, peas
Green vegetables
Citrus fruits and juices
Wheat bran
Yeast or malt extract
Fortified foods, e.g. cereals, cereal bars, breads, juices, milk.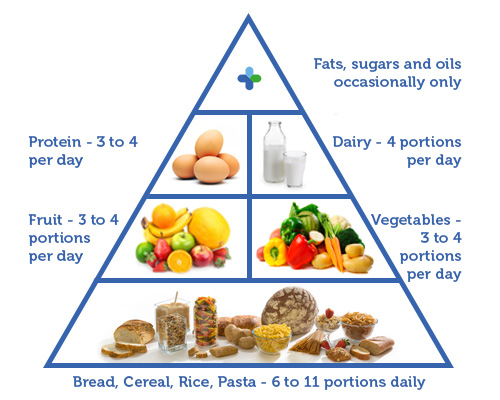 Iron
Include iron rich foods throughout pregnancy- especially 2nd half
Easily absorbed:
• Red meats; lamb, beef, pork, Black pudding, Chicken, Fish
Less well absorbed:
• Fortified cereals, Beans, lentils
• Green vegetables, Eggs, Dried fruits
Vitamin C
Include at least 2 vitamin C rich fruits or vegetables per day....
• Citrus fruits e.g. Oranges/ Berries/Kiwis
• Potatoes /Peppers/ Tomatoes ,/ Green vegetables
Calcium
Aim: 5-a –day
200mls milk / 30g hard cheese / 125g yoghurt / 60g tinned sardines/salmon/pilchards / Milk pudding made with 200mls milk / 150mls fortified milk
What if I don't like dairy foods?
• Try Tinned fish with bones/ Fortified soya and rice milks/ Fortified soya yoghurts/ Fortified Orange Juices/ Tofu / Fortified breakfast cereals, breads / Green vegetables, rhubarb, oranges
Vitamin D How can I get enough?
Sunlight Exposure
Vitamin D rich foods;
Fish especially oily, Egg yolks, Fortified foods e.g. milk, orange juice, cereals, Margarines, Omega-3 and 6.
Fish ....especially oily fish e.g. salmon, herring, mackerel, fish oils.
Linseeds,flaxseeds, walnuts
Rapeseed, walnut, soya and blended vegetable oils
Fortified foods e.g. some brands of yoghurts, yoghurt drinks, margarines, spreads, milk
Vegetable oils e.g. sunflower, corn, soyabean oils and spreads made from these.Peanut and rapeseed oils
What should I avoid?
• Raw/undercooked eggs, meat, fish, poultry
• Unpasteurised milk and dairy products
• Raw/undercooked meat, fish, poultry
• Liver/ liver products
• Shark, swordfish, marlin
• Alcohol
• Smoking
What should I limit?
Caffeine
• No more than 2 cups of coffee or 4 cups of tea per day
• Other caffeine sources; energy and fizzy drinks, cold remedies, chocolate beverages
Tuna- 1 fresh steak or 2 medium cans/week
Herbal Teas and medicine
Can I still exercise?
• Regular gentle exercise advised ie Swimming, walking, cycling, yoga.
• Seek advice if...Raised blood pressure , Starting new activity or Strenuous exercise planned
Do I need supplements?
Folic Acid - First 12 weeks 400ug/day
Iron if history of heavy periods , history of anemia/low iron stores or if Vegan or Vegetarian
Food Safety
Use by dates.
Wash fruits and vegetables.
Separate raw and cooked foods.
Ensure hand washing when Cooking & after work with Pets or if gardening.
Breast feeding....benefits
Available at all times.
Ideal blend of nutrients.
Antibodies to fight infections.
Bonding.
Less over feeding of infant.
Quicker maternal weight loss.