Galway Bay Physio, Oranmore
Galway Bay Physio is a friendly and forward thinking chartered physiotherapy clinic with an emphasis on providing a high quality service to the people of Galway and the surrounding area. We are situated in Galway Bay Medical Centre's premises on Dock Road Galway, in District Health and Fitness Athenry and in the modern Arlington House Medical Centre in Oranmore Co. Galway, we offer a variety of individually tailored hands on treatments and rehabilitation programmes to ensure best possible outcomes are achieved for everything from back pain to neck pain, whiplash, neck and back disc pain, foot pain, sports injuries, and chronic conditions.
Our new clinic is The new clinic will be based in the modern Arlington House Medical Centre. You can book your appointment online @ www.galwaybayphysio.ie
Appointment times to suit each client's needs can be arranged with flexible working hours from Monday-Saturday. You can contact us by phone on 091-569706. Alternatively you can email us on info@galwaybayphysio.ie to arrange an appointment.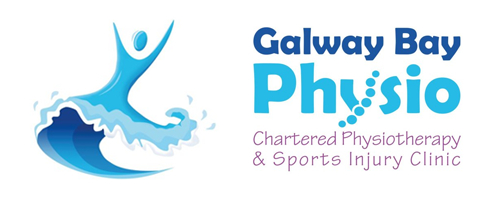 OUR GOAL
Our goal at Galway Bay Physiotherapy, Oranmore is simply to provide the most effective physiotherapy treatment for each person to ensure their expectations are exceeded and the best possible outcomes are achieved. We aim to be the best and most respected provider of physiotherapy services in the local area by improving every client's health and well-being through our expert services. Our philosophy is to treat any current issues our clients present to us with, establish the underlying cause of the issue and formulate a plan to help fully resolve the issue and prevent any recurrences. We do this by:
Providing a thorough hands-on approach
Managing each client with treatments that are specific to their needs and designing individually tailored rehabilitation programmes
Ensuring each patient understands their problem fully and the steps that can be taken to cure it and more importantly prevent it from recurring through advice and home management
Resolving each condition in a timely and cost effective manner
Providing 20% discounts for Students, OAP's, Medical Card Holders and affiliated club members
OUR BUSINESS
Galway Bay Physiotherapy was set up and is run by Galway native Ciaran Coyle and services are provided by Maria Farrell, Barbara Trant, Emmett Hartigan and Ciaran himself. All of our physiotherapists are members of the ISCP, are university trained with international experience and have undertaken a range of extensive post graduate training..
Galway Bay Physiotherapy and its physiotherapists have established strong links with various local sports clubs and organisations built over the years and also have established strong links and acquaintances with local and national GP's, consultants and surgeons. We also work closely with all the GPs in Arlington House Medical Centre.
EMMETT HARTIGAN (MISCP)
Emmett is a Galway native who graduated with an Masters in Physiotherapy from Robert Gordon University of Aberdeen. This followed on from the completion of a four year Bachelor of Science honours degree in Human Anatomy in NUI Galway. Since qualifying Emmett has gained vast experience both in the public and private health sector. having worked as a Senior Physiotherapist in the NHS in Scotland Emmett was awarded the post of Senior Cystic Fibrosis Physiotherapist in Limerick.
In recent years Emmett has worked in a variety of private physiotherapy clinics both in Ireland and New Zealand and gained particular expertise in snowsports injuries during his time abroad.
He is the current head Physiotherapist at Galway United but has worked with many teams around Galway including Connacht Rugby, Moycullen and Spiddal GAA, Satlhill Devon FC.
Emmett is constantly improving his treatment repertoire through continuous professional development. He has recently completed his a course in Dry Needling and obtained his Pilates qualification.
Emmett currently works in our Galway and Oranmore clinics
OUR SERVICES
We treat everything from back pain to neck pain, whiplash injuries, disc and sciatica issues, foot pain, sports injuries and chronic long term conditions. Services provided are up to date research based interventions that include:
Detailed Physiotherapy Assessment & Treatment plans delivered to each client along with videos of any stretches/exercises shown during your session
Massage
Dry Needling
Kinesio Taping & Rocktaping
Sports Therapy
Post Surgical Rehabilitation
Orthotic Assessment & Prescription
Injury Prevention
Clinical Pilates
Neurological Rehabilitation
Provide Presentations & courses to clubs, businesses and other health professionals
Home Visits
You can contact us by email or phone. Phone: 091-569706 or  Email:  info@galwaybayphysio.ie
You can also book online via our website www.galwaybayphysio.ie