Childhood Immunisations
Childhood Immunisations are available free to all children.
Immunisation is a simple, safe and effective way of protecting babies and children against certain diseases. The risks from having these diseases are far greater than the risk of any minor side effects from immunisation. 
How do vaccines work?
When your child is given a vaccine, their body responds by making antibodies, the same as if they had caught the disease but without getting sick. Their body then produces antibodies to destroy the vaccine and these stay in your child's body and protect them against the actual disease.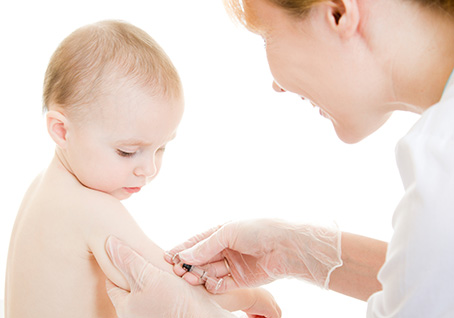 How long do vaccines take to work?
It usually takes a few weeks for vaccines to work, so your child will not be protected immediately. Also, most vaccines need to be given several times to build up long-lasting protection. For example, a child who gets only one or two doses of the whooping cough vaccine is only partly protected against that disease and may still catch whooping cough.
Why does my child need more than one dose of a vaccine?
More than one dose of the same vaccine is given in the first few years of a child's life. The extra doses improve the antibody response and give better long term protection. Booster doses of some vaccines are also given to school children to give better long term protection.
What are the names of the vaccines my baby will receive?
The table below shows the vaccine product name and the company that makes the vaccine.
FOR FURTHER INFORMATION ON CHILDHOOD IMMUNISATIONS PLEASE VISIT THE HSE WEBSITE
www.hse.ie
The following websites provide detailed licensed information about the vaccines